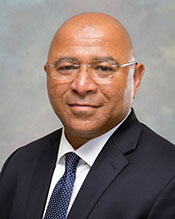 Timothy L. DeFoor
HACC Foundation Board Member
1. How long have you been a part of the HACC Foundation Board?
I became a member in May 2017.
2. Which HACC campus location do you represent?
I will be representing the Harrisburg Campus.
3. How long have you lived in the area?
I moved to this area as a small child with my family from my birthplace of Toledo, Ohio.  
4. Why did you decide to become a member of the HACC Foundation Board?
Being a Board member is part of my progression with the College. It started as a student where, for the first time in my life, I was challenged academically to chair the Multi-Cultural Advisory Committee.
5. What is your professional background, including current employer and position?
My professional background is auditing and investigating government fraud, waste and abuse. I am a retired special agent with the Pennsylvania Office of Attorney General.  I currently serve as the elected Dauphin County Controller.   
6. What do you enjoy the most about being a member of the HACC Foundation Board?
I enjoy giving back to a college that gave back to me.
7. What are your hobbies and interests?
My hobbies are golf, reading and anything historical.