You're invited!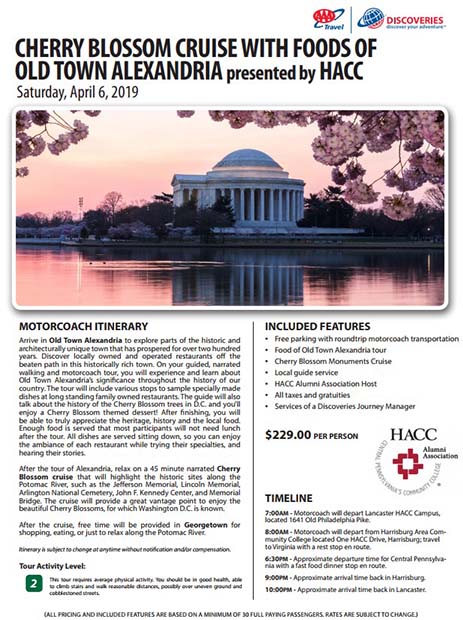 On April 6, 2019, alumni, friends and family are invited to relish in the famous Washington, D.C. cherry blossoms and explore historic old town Alexandria on a one-day trip with YOUR HACC Alumni Association and AAA Travel.
After departing from HACC's Harrisburg and Lancaster campuses, arrive in Old Town Alexandria to explore parts of the historic and architecturally unique town that has prospered for over two hundred years. Discover locally owned and operated restaurants off the beaten path in this historically rich town. On your guided, narrated walking and motorcoach tour, you will experience and learn about Old Town Alexandria's significance throughout the history of our country. The tour will include various stops to sample specially made dishes at long standing family owned restaurants. The guide will also talk about the history of the cherry blossom trees in D.C., and you'll enjoy a cherry blossom themed dessert! After finishing, you will be able to truly appreciate the heritage, history and the local food. Enough food is served that most participants will not need lunch after the tour. All dishes are served sitting down, so you can enjoy the ambiance of each restaurant while trying their specialties and hearing their stories.
After the tour of Alexandria, relax on a 45-minute narrated cherry blossom cruise that will highlight the historic sites along the Potomac River, such as the Jefferson Memorial, Lincoln Memorial, Arlington National Cemetery, John F. Kennedy Center and Memorial Bridge. The cruise will provide a great vantage point to enjoy the beautiful cherry blossoms, for which Washington D.C. is known. After the cruise, free time will be provided in Georgetown for shopping, eating or just to relax along the Potomac River.
We look forward to hosting you for this fun-filled adventure that benefits HACC students! Please review the full details and reserve your spot today. (pdf) Thank you!