HACC's mission statement
Creating opportunities and transforming lives to shape the future - together.


HACC's vision statement
HACC will be the first choice for a quality and accessible higher education opportunity.

HACC's core values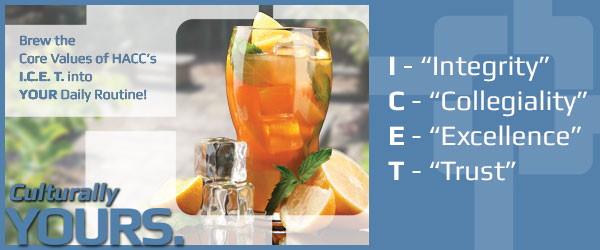 Integrity:
We behave in a manner consistent with our core values.
We are honest, open and truthful in our statements and actions.
We provide the most accurate information available in all communication.

Collegiality:
We work in harmony with one another.
We respect the shared governance decision-making process.
We welcome and embrace individuals and groups of varied backgrounds.

Excellence:
We set high goals and achieve them.
We consistently perform above our own and others' expectations.
We provide exceptional service to all.

Trust:
We provide a safe and encouraging environment.
We are fair and balanced in our interactions with others.
We respect and support one another despite differences of opinion.