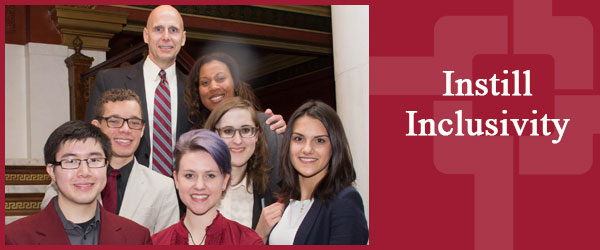 Engage the College community in an exchange of ideas and practices that promote respect, collegiality, diversity and empathy. Nurture awareness and cultural sensitivity to create a climate of trust within the College.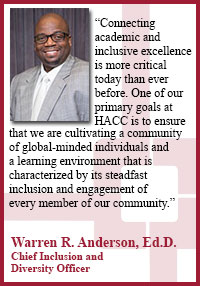 Subgoal 1: Maintain a commitment to the equitable access, engagement, and success of HACC's current and future student scholars.
Objective 1 - Continuously assess the climate of inclusion and diversity across the College, including providing a platform for continuous assessment/feedback regarding perceptions of College climate.
Timeline: June 2018
Objective 2 - Review current policies, procedures, and practices to ensure alignment with the College's mission around inclusion and diversity.
Timeline: December 2017
Objective 3 - Institute recommendations developed by the Employee Engagement Task Force from climate review and implement related recommendations.
Timeline: June 2019
Objective 4 - Evaluate accessibility for students across campuses and within Virtual Learning.
Timeline: December 2016
 
Subgoal 2: Nurture an environment that invites opportunities for cultural and intercultural engagement.
Objective 1 - Increase the number of individual faculty that volunteer to integrate diversity and inclusive objectives into the curriculum at the College/program, and individual faculty level.
Timeline: May 2018
Objective 2 - Develop opportunities for cultural and intercultural engagement, specifically for individual campuses.
Timeline: December 2017
Objective 3 - Increase collaborative efforts among offices that seek to primarily support students' diverse needs.
Timeline: August 2018
 
Subgoal 3: Enhance the recruitment and search processes to ensure a workforce reflective of HACC's diverse service market.
Objective 1 - Implement three new processes and initiatives designed to ensure equity throughout the recruitment and research process.
Timeline: August 2018
Objective 2 - Ensure continuous improvement in the access and retention of underrepresented/minority prospective and current employees.
Timeline: December 2018
Objective 3 - Develop a comprehensive plan for the recruitment and hiring of qualified applicants and employees belonging to historically underrepresented or underserved populations.
Timeline: December 2019
Objective 4 - Implement the recommendations of the training needs assessment conducted in spring 2015 on: courses needed, number of participants, return on investment and implementation of specific recommendations.
Timeline: June 2019
Objective 5 - Improve time to fill positions and increase number of vacancies filled to improve the employee recruitment process.
Timeline: June 2017
Objective 6 - Market a comprehensive benefits and rewards program to attract and retain high-performing employees to reduce turnover.
Timeline: June 2016
Subgoal 4: Develop and promote opportunities for active engagement that strengthens the diversity-rich communities within our service footprint or service market.
Objective 1 - Align HACC's business structures to be inclusive of local minority and women entrepreneurs.
Timeline: December 2017
Objective 2 - Implement three new opportunities for participation/engagement of local community members around issues of inclusion and diversity.
Timeline: June 2019
Objective 3 - Engage HACC alumni, who identify as belonging to historically underrepresented or underserved populations, to develop initiatives that support the engagement and retention of current HACC students.
Timeline: December 2019