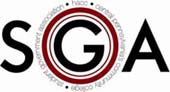 All students are members of the Student Association which annually elect the Student Government Association Officers at each campus.
The Student Government Association Executive Council (SGAEC) serves as the representative voice of the students from all regional campuses to the College. Copies of the SGAEC Constitution are available in the SGA office at each campus.
The SGA at HACC provides students with a strong voice in the overall governance of the College. The SGA represents the entire student body and works closely with all components of the College community, such as the administration, Faculty Council, and various College committees. Through involvement in decision-making at the College, SGA strives to ensure that the interests and rights of all students are served.
Students interested in becoming involved with SGA should contact their SGA campus office.