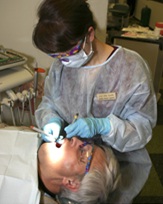 Dental Hygiene Program Annual Alumni Day
Date:   Friday October 9, 2015
Time:   8:00 AM - 12:30 PM
Location:    Cooper Student Center, International Room, Harrisburg Campus

Contact Name:    Jen Stutzman
Contact Phone:    717-780-2490
Contact Email:    jlstutzm@hacc.edu

Details:
A Radiology Portfolio – Today's Solutions for Successful Imaging
Course Description: Advances in technology have made a significant impact on the field of dental radiography. For dental practices to make a smooth transition to new technology, an understanding of the basic principles of intraoral radiography and the modifications to these principles required by the new technology is beneficial. This course provides the dental professional with techniques to utilize with their current technology, analog or digital, to produce quality, diagnostic images on the first exposure.
8:00-8:30                      Registration, Continental Breakfast
8:30 – 11:30                Presentation by Gail Malone, RDH, BS
11:30 – 12:30             Table Clinics - Current Topics in Dental Hygiene 2015
This 3 CEU course will be supplemented by Table clinic Presentations by HACC's 2nd year Dental Hygiene students.  Participants attending the presentations will earn 1 CEU totaling 4 CEUs for the day.
Cost: ADHA member $65.00;  Non-member $75.00
Complete form and send a check payable to:
Sigma Phi Alpha, Chi Zeta
HACC Dental Hygiene Clinic
One HACC Drive SM104
Harrisburg, PA 17110
Attn:  Jennifer Stutzman,
Questions? Call: 717-780-2490
Sponsored by:
  HACC Dental Hygiene Program
For more information: