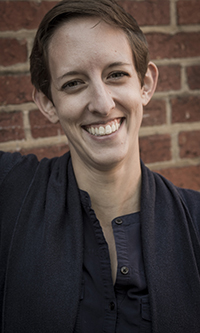 Amanda Wilkins
What are your title and main job responsibilities?
I am the integrated marketing communications (IMC) coordinator for project management. One of my primary responsibilities is reviewing, assigning and building projects that are submitted through our Communications Hub. I also develop and implement IMC plans for colleagues across the College.
What inspires you to come to work every day, and why?
I am inspired by my hardworking supervisor and team members. I am so fortunate to work with people who care deeply about their work, respect one another and enjoy each other at the same time. I know that a day spent with the OCA team will be full of laughter, no matter what may be happening.
How do you interact with and engage students and excite them about attending HACC and learning?
One of the initiatives I oversee is our Story Bank. I love opportunities to go to different campuses, meet students and hear their stories. Whenever I'm interacting with students, I actively listen to everything they say. Their experiences and feedback bring so much life to the work I do, and also help people in the community get a stronger understanding of what HACC is all about.
What is one of your best moments as an employee at HACC?
In April 2018, we launched a brand-new Communications Hub. I worked closely with my OCA colleagues and an external vendor on the development of this important tool. It was a massive endeavor that required years of planning, so it felt incredible to see the final product. I remain very proud of that Hub!  
What do you see as your greatest personal achievement?
When I was in my early 20s, I made the decision to move to Washington, D.C. for my first real job in marketing and communications. I didn't know anyone there at the time, I had never lived in a big city and the job was grueling. That decision changed the course of my life in the best ways possible.
What energizes you the most and why?
I'm energized by fierce women who speak their mind. There are not enough of us, and when I meet women who are bold and fearless, it fires me up and inspires me to be more like them.  
If you could solve one community or national problem, what might that be?
Only one!? I choose systemic racism.
As you look to the future, what matters most to you?
I sometimes feel very cynical about the future (from a big picture perspective), so one thing that matters to me is that I never let that negativity overtake me. I want to always listen, grow, care and invest in other people, even when it feels impossible.
How do you enjoy spending free time?
I love watching movies, reading, spending time with my dog and husband and traveling to new places whenever possible.
Who's your biggest hero, and why?
One of my heroes right now is Alexandria Ocasio-Cortez, because she is not afraid to challenge power.
What educational degree(s) have you obtained?
I have a bachelor's degree in English from Marietta College.