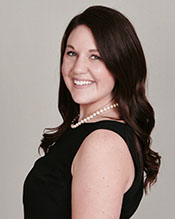 Erica M. Koser
HACC Foundation Board Member
1. How long have you been a part of the HACC Foundation Board?
I joined the HACC Foundation Board in May 2017.
2. Which HACC campus location do you represent?
I represent the Harrisburg Campus.
3. How long have you lived in the area?
I was born and raised in Lancaster County. With the exception of three years, I have spent my entire life working and living in the Central Pennsylvania region.
4. Why did you decide to become a member of the HACC Foundation Board?
I passionately believe in the power of education and the important role that it plays in the lives of students and in our community.  Through my work on the HACC Foundation Board, I hope to help ensure that students have continued access to the great opportunities that HACC has to offer.  
5. What is your professional background, including current employer and position?
I've spent the majority of my career working in state government. I recently graduated from law school and look forward to joining McNees Wallace & Nurick as an associate in fall 2017.
6. What do you enjoy the most about being a member of the HACC Foundation Board?
I am new to the Board but am eager to join the rest of the team and get started! 
7. What are your hobbies and interests?
I enjoy reading and traveling, and during the summer, attending as many country concerts as possible!