Timothy M. Gregg
Fire Science, 1995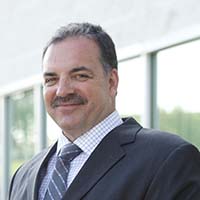 "Attending HACC was a life-changing event for me. I gained the communication and leadership skills that are helping me be a more effective public administrator and involved member of my community."
Tim Gregg serves as a role model for today's HACC students. He gives back to his community daily in his work as fire chief of the City of Lancaster. Lancaster is under 24-hour protection from the 74 professional firefighters employed by the Bureau of Fire and Rescue, which Gregg oversees. On average, the bureau responds to more than 3,000 emergency calls a year.
Since Gregg became fire chief in 2006, he has improved the bureau's operational efficiency, saving the city $450,000 annually, developed a citywide recruiting effort to hire a more diverse workforce and built regional cooperation by organizing a Metro Rapid Intervention Team. Gregg also serves as emergency management coordinator for the city and is a member of the mayor's executive team.
Gregg's career has revolved around Lancaster's Bureau of Fire and Rescue. After serving in the U.S. Navy, Gregg joined the bureau as a firefighter in 1985. During the next 20 years, he climbed the ranks and was promoted to lieutenant in 1992, captain in 1999, battalion chief in 2002 and fire chief in 2006. While working, Gregg also continued his education. He earned an associate degree from HACC in 1995, a bachelor's degree in business management, economics and fire administration from Empire State College in Saratoga Springs, New York, and a master's degree in public safety management from St. Joseph's University in Philadelphia.
He is also a graduate of the National Fire Academy's executive fire officer program and has two published research papers in the Fire Academy's library.
In his spare time, Gregg serves his profession. He is currently vice president of the Pennsylvania Career Fire Chiefs Association and serves on the boards of directors of the Lancaster City Fire Foundation and the Lancaster City Fire Pension Fund.