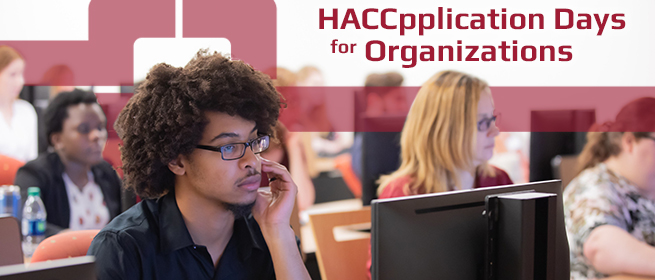 HACCpplication Days for Organizations - Let's Partner to Help YOUR Employees Succeed.
At HACC, Central Pennsylvania's Community College, we are excited to partner with YOUR organization to help your employees continue to grow and succeed.
HACC offers Application Days, which are in-person and virtual events where HACC admissions professionals focus on helping your employees complete HACC's free admissions application on the spot. This is the first step to start their journey in earning a credential from HACC!

Why help your employees start their educational journey at HACC?
How do you sign up?
Please complete our online form to start the process for a HACCapplication Day.


Not quite ready for HACCpplication Day?
We offer virtual and in-person presentations to organizations whose employees, students, clients and other stakeholders are interested in earning a credential from HACC. We are also happy to attend recruitment events that your organization is coordinating. Please complete our online form to tell us what you need, and we'll be ready to assist you.
 
What are some frequently asked questions?
| Question | Response |
| --- | --- |
| Will the trade programs be included in these application days? | Yes, they will be included. |
| If any of my employees decide to attend HACC, can the company be billed for their tuition, books and/or fees? | Yes, we can bill your company. |
| If any of my employees decide to attend HACC, will they be billed for their tuition, books and/or fees? | If your company does not offer tuition assistance, yes, we can bill your employees. |