Study Abroad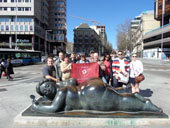 You can earn three or four HACC credits in as little as one to three weeks of travel time while participating in a short-term, faculty-led travel course.  Information about the 2018 short-term, faculty-led travel courses can be found here.  Students can  apply for participation in these courses immediately. Travel courses will close without notice once capacity is reached.
Where can you go?
Africa, Asia, Europe or South America!
 
Who teaches HACC's travel courses?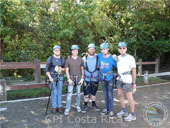 Experienced HACC faculty lead and teach the travel courses.
 
When do the travel courses actually travel?
The Center for Global Education schedules travel to take place over mid-term break in March but with the majority of the courses traveling after finals in May and are, for the most part, late-start SPRING term classes.  Keep in mind there will be pre- and post-travel classes to attend in addition to the travel portion of the programs.
 
How can I apply?
If you are interested in applying for a 2018 travel course complete the Study Abroad application online. Follow instructions to create an account, select the course you are interested in and then complete the online application. HACC's 2018 travel courses are now open to accept applications.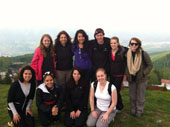 Where is HACC going?
Click here to view the General Information Flyer listing the 2018 travel courses (pdf).
Additional Information:
Although HACC short-term, faculty-led travel courses are designated as spring or summer term, students must have applied for participation, been accepted by the program's faculty leader and are enrolled in the course as early as October 2017 (for the Italy-Culinary program program) and December 2017 for the courses traveling in May/June 2018 to meet our providers' deadlines.
HACC travel courses are subject to close without notice once capacity is reached.
Enrollment into any of the HACC travel courses is controlled by the Center for Global Education. Only upon acceptance into the course AND completion of all enrollment documents, including payment of a $300 non-refundable deposit, will enrollment in the course take place. Students will be notified via email when the enrollment process is complete.
Payment in full of the program fee (less the $300 deposit) is due 45 days prior to the program's departure date. The payment plan offered through Student Accounts for "regular" HACC classes DOES NOT APPLY TO TRAVEL COURSES. View the balance due date for each of the HACC travel courses.
Refund Policy:  Upon receipt of written notification of withdraw and including a completed and signed Drop/Add/Withdraw (DAW) form submitted to the Center for Global Education, cancellations and refunds will be processed according to the following policy.
 

Program Withdraw Date

 

Refund Policy

 

Up to 30 days prior to departure

 

Paid program fees minus enrollment deposit and other program specific non-refundable costs

 

Between 29 days and day of departure

 

No Refund
FAQs and 6 Easy Steps to Study Abroad (pdf) available in C217 (Harrisburg campus) or upon request via email to studyabroad@hacc.edu.

Don't have a US passport yet? 
Click here for information on how and where to apply for a US passport
 
Funding your program fee: 
If you qualify and funds are available, Financial aid and scholarships offered through HACC Foundation can be applied to your program fee.  Applying for scholarships does not guarantee receipt of funds.
Contact the financial aid office on the campus nearest you.
Apply for scholarships offered through the HACC Foundation.  THE DEADLINE TO SUBMIT applications for scholarships offered through HACC Foundation IS SEPT. 22, 2017.
A 3rd party scholarship is being offered to HACC student participating in a study abroad program through the Foundation for Enhancing Communities. This is in paper form and must be printed, completed and returned to the Center for Global Education
no later than 11:59 p.m. Sunday, Dec. 17, 2017
.
Please note
- if you plan to submit the application packet via hand-delivery, U.S. mail or interoffice mail the packets MUST BE RECEIVED BY 4:00 p.m. in C217 (Harrisburg campus) on Friday, Dec. 15 so plan accordingly, allowing sufficient time for it to arrive at this office. There is no mail delivery (interoffice or U.S. mail) on Saturdays and Sundays, nor is the office staff on those days. If interested,
CLICK HERE
for the application form. When submitting the application, be sure ALL required information is included in the packet. *Applying for this scholarship does not guarantee receipt of funds*
*Applying for this award does not guarantee receipt of funds*