Email


Welcome to the Lebanon SGA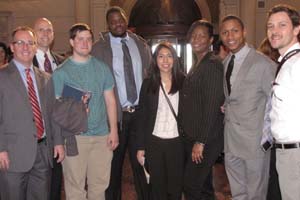 SGA Lebanon Campus
Learn about the SGA at Lebanon Campus.
When and where are meetings?
Student Government Association —Mondays at 3:30 p.m. in room 214.

Phi Theta Kappa —Thursdays at 3:30 p.m. in the library.

Chess Club —Tuesdays and Thursdays at 1 p.m. in room 206.

Art Club —Wednesdays at 1:30 p.m. in room 112.
Check campus boards for any changes.
What does the SGA do?
Your Student Activity Fee goes directly to the SGA. The SGA: 
Develops programming

Supports initiatives throughout the college

Funds various clubs
The SGA has:
Renamed the Student Lounge to the Hawk's Peak

Purchased the TVs and video game systems in Hawk's Peak
How can I get involved?
The SGA currently has vacant senator positions. If you are interested, contact the SGA at 717-270-6321 or lebsga@hacc.edu, or come to a meeting.
How can I get more information?
Download SGA BUSINESS CARD Participating Businesses (pdf).
Who can I contact for more information?
Student Government Association 
HACC Lebanon Campus 
735 Cumberland Street 
Lebanon, PA 17042 
717-270-6321