SPRING 2014 NEWS
*Informational meeting set for March 19th @ 7 pm in the Evans Center Room 102*
First meeting:  March 19, 2014 7 pm @ Evans Center, Room 102
Tryouts: March 22nd and March 23rd @ Dauphin Highlands, 1:30 pm *CHANGED*
*MUST HAVE A PHYSICAL BEFORE TRYOUTS
For more information, please contact Coach
Tim Birney


Golf Course: The HACC Golf Team's home matches take place at Dauphin Highlands.
2013 HACC Golf Team:
 
Coach Jim Connell, Zack Carter, Jordan Leach,
Pedro Sperb, Cory Reinoehl, Nathan Backenstose,
Coach Tim Birney

 

HACC Golf at Regionals 2013
Cory Reinoehl, Nathan Backenstose,
Zack Carter, and Pedro Sperb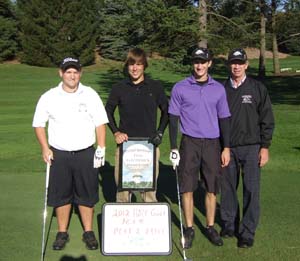 HACC Golf Team raised around $500 at the HACC Foundation Golf Tournament 9/24/12
Pictured (left to right): Matt Berger, Cory Reinoehl, Cole Wagner and Coach Tim Birney

2013 Roster
| | | | | |
| --- | --- | --- | --- | --- |
| Name | Height | Class | High School | Course of Study |
| Ryan Alcala | 6'2" | F | Manheim Central |   |
| Matthew Shirk | 6'1" | F | Penn Foster | Computer Information Systems |
| Ryan Ritter | 5'11" | F | William Tennent High School | Business Management |
| GeneCarlo Veno | 5'8" | S | Bisoph McDevitt |   |

Head Coach: Tim Birney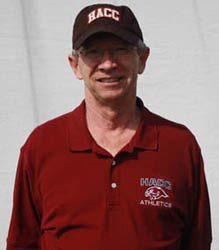 Coach Tim Birney has been at the helm of HACC's golf team since the 2005 season.
Coach Birney brings to the team a wealth of knowledge and experience having been a golf professional for the past 31 years, and a member of the PGA of America for 28 years. In addition to coaching, Birney has been a teaching professional at Dauphin Highlands Golf Course for the last twelve years.
Coach Birney attended Indiana University of Pennsylvania. While there, he played on the golf team for four years, and was team captain his senior year. During Coach Birney's junior year at IUP, he played in the Division I NCAA Golf Championship Tournament.
Coach Birney is originally from New Castle, PA. He currently lives in Harrisburg, with his wife of 30 years, Cathy. Both his wife and daughter, Claire, are excellent golfers.

Assistant Coach: Jim Connell