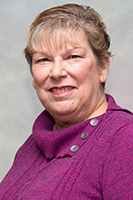 By Sherrill B. Goodlive MA, LPC
Wellness Counselor, Professor
Harrisburg Campus, C219E
sbgoodli@hacc.edu
Q. I am in my second year at HACC, and would very much like to complete a health care program. I have applied and been accepted to one or two associate degree programs, but haven't been able to complete them. I am married and have a young child but want to eventually get a job where I can earn enough to support me and my child.
Right now my husband is the problem. He is very controlling and abusive when he doesn't get his way. He thinks that I am going to college to meet up with other men, or that I am going out with men instead of attending classes. He comes to campus to be sure I go to classes, and even keeps track of the daily mileage on my car to be sure I am not going anywhere else. I can't convince him that I am only trying to improve myself and our family. He gets violent with me when I get back from my classes, and often hits me when I do something he doesn't like. He also sabotaged my attempts to complete a nursing degree. I am feeling very trapped and losing hope, please help! #seekingfreedom
A. Dear Student,
I am so sorry to hear that you are having problems completing your courses, and am very concerned for your safety and of course, your child's safety. I know that being in an abusive situation is very frightening, but help is out there for you. The YWCA in Harrisburg offers services for victims of domestic violence, including legal referrals and counseling. They even have an emergency shelter for women and children. You can talk to your HACC counselor to get more information about their services. Here is a web resource that you may want to look into. This and other resources are located in your MyHACC account under Counseling. One gives you pointers about what to expect in healthy relationships. I hope you will come and visit the counseling center at your campus very soon. 
Sherrill.