Dear Friends~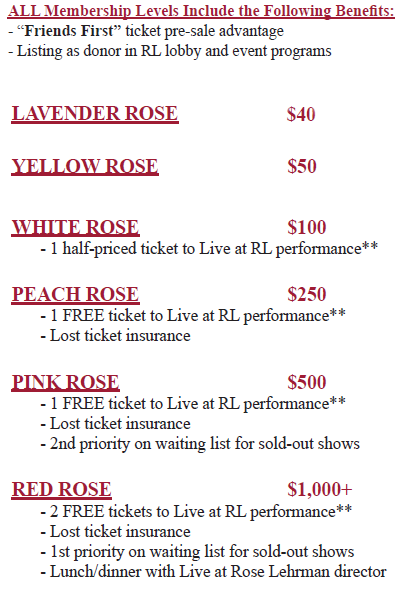 An extra benefit, and way to say "Thank You" to our Live at Rose Lehrman Friends!
As a Friend of the Rose Lehrman Artist Series, you have the satisfaction of knowing you are helping to sustain our excellent artistic programming.
We offer our Friends perks designed to bring you closer to the magic that happens on the stage of our intimate theatre. Ticket sales are important and vital, yet they only partially support the fantastic performances and educational programs we offer. Your contribution helps keep our programs alive and vibrant. We value all levels of support, and most importantly, we value your loyalty.
In honor of Rose Lehrman Art Center's 40th anniversary we ask that all Friends at the Lavender Rose level consider a $5 increase for a donation of $40. In similar fashion, we ask that donors at the Yellow, White, Peach and Pink Rose level consider an increase of $50 over the listed level, in honor of HACC's 50th anniversary. We look forward to seeing you at our Live at Rose Lehrman performances and thank all of you for supporting the arts in our community.
If you have any questions about our Friends membership or are interested in our Business Sponsorship Benefi ts, please contact our Live at Rose Lehrman Offi ce at 717-780-2545.
Teri Guerrisi Director, Live at Rose Lehrman
ALL Membership Levels Include the Following Benefits:
- "Friends First" ticket pre-sale advantage
- Listing as donor in RL lobby and event programs