ESL for Workplace and Community
Workplace Success is a program designed to help you with your English skills. Learn to read, write, listen and speak English for your job and everyday communication.
The ESL for Workplace and Community program is a noncredit offering.
How Do I Sign Up for New Student Orientation or Schedule Placement Testing?
To learn about Workplace Success, sign up for new student orientation or schedule placement testing, contact:
Melinda Fraker de Fonte mmfraker@hacc.edu (717) 780-2577 
Requisitos para Registrar se Llamar al (717) 780-2577 para establecer una cita para la Orientación y Tomar el Examen de Nivelación de Inglés. Se habla español.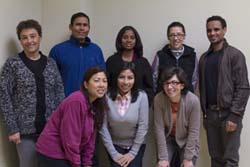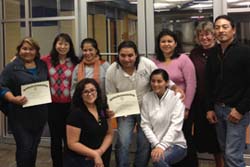 ESL for Work and Community at HACC's Harrisburg Campus
Early Fall 2014 Orientation
| | | | |
| --- | --- | --- | --- |
| Session | Time | Date | Location |
| Morning Orientation for ESL Class | 9:00 - 11:30 am | July 21, 2014 | Whitaker Hall Building, Room 214 |
| Evening Orientation for ESL Class | 6:00 - 8:30 pm | July 21, 2014 | Whitaker Hall Building, Room 214 |
Class Schedule for Early Fall 2014
| | | | |
| --- | --- | --- | --- |
| Class | Dates | Days | Time |
| Beginner | 08/18/14 - 10/13/14 | M & W | 9:00 - 11:30 am |
| Beginner | 08/19/14 - 10/14/14 | T & Th | 6:00 - 8:30 pm |
| Low Intermediate | 08/19/14 - 10/14/14 | T & Th | 9:00 - 11:30 am |
| High Intermediate | 08/19/14 - 10/14/14 | T & Th | 9:00 - 11:30 am |
| High Intermediate | 08/19/14 - 10/14/14 | T & Th | 6:00 - 8:30 pm |
| Advanced Level - ESL for College & Career | 08/18/14 - 09/24/14 | M & W | 9:00 - 11:30 am |
| Advanced Level - ESL for College & Career | 08/18/14 - 09/24/14 | M & W | 6:00 - 8:30 pm |
| GED Test Preparation in Spanish | 08/18/14 - 09/24/14 | M & W | 5:30 - 8:00 pm |
| U.S. Citizenship Preparation | 09/22/14 - 11/12/14 | M & W | 6:00 - 8:30 pm |
Class Schedule for Late Fall 2014
| | | | |
| --- | --- | --- | --- |
| Class | Dates | Days | Time |
| Beginner | 10/20/14 - 12/16/14 | M & W | 9:00 - 11:30 am |
| Beginner | 10/21/14 - 12/17/14 | T & Th | 6:00 - 8:30 pm |
| Low Intermediate | 10/21/14 - 12/17/14 | T & Th | 9:00 - 11:30 am |
| High Intermediate | 10/21/14 - 12/17/14 | T & Th | 9:00 - 11:30 am |
| High Intermediate | 10/21/14 - 12/17/14 | T & Th | 6:00 - 8:30 pm |
| Advanced Level - ESL for College & Career | 10/20/14 - 11/26/14 | M & W | 9:00 - 11:30 am |
| Advanced Level - ESL for College & Career | 10/20/14 - 11/26/14 | M & W | 6:00 - 8:30 pm |
ESL for Work and Community at HACC's Lancaster Campus
Early Fall 2014 Orientation
| | | | |
| --- | --- | --- | --- |
| Session | Time | Date | Location |
| Morning Orienation | 9:00 - 11:30 am | July 14, 2014 | HACC, Lancaster Campus, East Building, Room 326 |
| Evening Orientation | 6:00 - 8:30 pm | July 14, 2014 | HACC, Lancaster Campus, East Building, Room 326 |
Class Schedule for Early Fall 2014
| | | | |
| --- | --- | --- | --- |
| Class | Dates | Days | Time |
| Beginner | 08/12/14 - 10/07/14 | T & Th | 9:00 - 11:30 am |
| Beginner | 08/12/14 - 10/07/14 | T & Th | 6:00 - 8:30 pm |
| Intermediate/Conversation | 08/11/14 - 10/06/14 | M & W | 9:00 - 11:30 am |
| Intermediate/Conversation | 08/11/14 - 10/06/14 | M & W | 6:00 - 8:30 pm |
ESL for College and Career at the Chambersburg Area Senior High School
Advanced level, academic preparation with emphasis on reading, writing and career readiness activities for those interest in pursuing college-level courses or professional employment
| | | | |
| --- | --- | --- | --- |
| Class | Dates | Days | Time |
| Advanced Level - ESL for College & Career | 06/24/14 - 08/14/14 | T & Th | 6:00 - 8:30 pm |