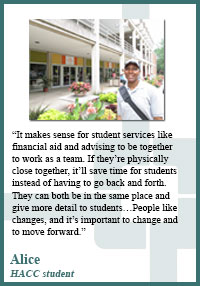 For the first time in 45 years, we are renovating the Cooper Student Center on the Harrisburg Campus. It was built in 1968 with an anticipated capacity for 7,500 students, and we are now approaching 10,000 students on campus. Our goal is to create a "one-stop" welcome center, where students have easy access to a range of services:
Admissions, financial aid, counseling and advising
Comfortable lounge space for students
Computer classroom and labs
Cafeteria
Campus store
Student government offices and student club space
For more information and renovation updates, please visit hacc.edu/CooperUnderConstruction. To view available naming opportunities, please visit http://www.hacc.edu/HACCFoundation/Fundraising/Harrisburg-Campus-Cooper-Naming-Opportunities.cfm
Please note that $774,247 has been raised ($564,407 in cash and $209,840 in unpaid pledges) since 2010 in support of the Cooper Student Center renovations. The current campaign will raise an additional $10 million for the project.