As each of the communities HACC serves is unique, so too are the needs of each HACC campus. Below is detailed information about the most pressing needs across the College and at each campus.
College-Wide
Gettysburg Campus
Harrisburg Campus
Lancaster Campus
Lebanon Campus
York Campus
College-Wide: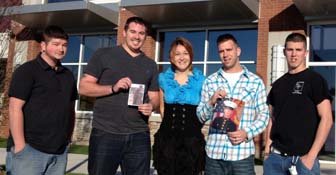 The Post-9/11 GI Bill Yellow Ribbon Program
Since World War II, our military personnel have benefitted from the GI Bill. Deserving men and women who have selflessly defended our freedom were given complete college tuition to use at the college of their choice. Tough economic times have taken their toll on all of us and the United States Department of Veterans Affairs is no exception.
HACC has partnered with the Department of Veterans Affairs to offer tuition and fee assistance to veteran students who have actively served in the military following the 9/11 terrorist attacks. Prior to 2011, all tuition and fees were paid in full via the GI Bill regardless of the student's residency. In other words, there was no extra charge to attend an out-of-state college. In 2011, changes in the GI Bill shifted more of the financial burden to those who have so bravely fought for our freedom. Now, these students are required to pay 50 percent of their out-of-state tuition and fees. Unfortunately, there are no existing funds for these students and they need your support.
Out-of-state HACC students who may qualify for the funds through your generous support of the Post-9/11 GI Bill Yellow Ribbon Program include:
Virtual Campus students who may be taking HACC classes anywhere in the world
Students living in Maryland and attending classes on the York or Gettysburg campuses
Please consider donating to this program so that our out-of-state veterans will be able to continue their education at HACC. For all they've done for us, let's show our support for them.
Fundraising Goal: $200,000


President's Fund for Excellence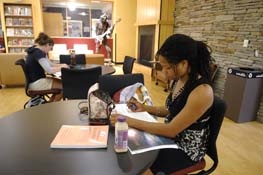 In times of financial difficulty, unrestricted and discretionary money is worth its weight in gold to a college. The President's Fund for Excellence is a vital resource that enables HACC to address the immediate priorities of today, while building a stable foundation for the future.
Gifts to the President's Fund for Excellence give the College the capacity to meet pressing needs as they arise, launch special initiatives and capitalize on new opportunities to strengthen student programs. For example, HACC may use this Fund to:
Purchase cutting-edge technology and laboratory equipment.
Recruit and retain top-notch faculty and adjunct instructors.
Enable students and faculty to travel abroad or to conferences that enhance education.
Improve essential student support services, such as learning centers, counseling, career advising and disability assistance.
HACC faces new challenges and opportunities every day. Your gift to the President's Fund for Excellence will enable HACC faculty, staff and students to meet the exciting times ahead and move on with confidence.
Fundraising Goal: $200,000

Campus Emergency Assistance Fund
We can relate to those unexpected and unwelcome problems that arise in our lives, such as the car won't start, the rent is due and childcare rates are increased. Emergencies and unplanned events can leave students with financial difficulties that affect their personal and academic lives.
The Emergency Assistance Fund is available to assist students facing a financial emergency and unexpected financial burdens, excluding tuition-related expenses. The fund assists students enrolled at HACC who could be forced to delay or leave their education if they did not receive extraordinary financial help. Separate emergency assistance funds have been established for the Gettysburg, Harrisburg, Lancaster, Lebanon and York campuses.
Students complete an application when requesting emergency assistance funds. Funding approval and amount, with a maximum award of $500 per student per year, is determined via review of the completed application by a Campus Emergency Assistance Fund review committee, including the campus vice president and a representative from both enrollment services and financial aid.
If the application is approved, the Emergency Assistance Fund assists students by providing immediate financial support. Eligible emergencies may include, but are not limited to, childcare, transportation costs and book or course fee expenditures (i.e. culinary or nursing program requirements, etc.). Students may also request assistance if they experience situations involving an accident, illness, death of a family member, fire damage or need for temporary housing.
Granted emergency monies are made to student recipients via credits to their HACC student account or made payable directly to the vendor based on an actual invoice in the case of non-college expenses.

Please consider supporting one or more of our campuses for direct support to students in need.
Fundraising Goal: $50,000
Gettysburg Campus: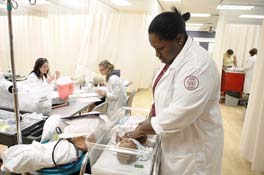 Scholarship Campaign
Continued financial resources are needed to provide scholarship dollars to students who will help break the cycle of poverty and despair. Scholarships increase access to higher education; enhance recruitment and retention of students, particularly those who are economically disadvantaged and provide resources to lead to completion of a degree, certificate, or career skills program. These students will fill critical workforce needs in the Adams- Hanover - Franklin region.
Fundraising Goal: $ 40,000

Efforts will focus on four opportunities:
Community Endowed Gettysburg Campus Nursing Scholarship - Nursing scholarship to celebrate the 10 year anniversary of the Gettysburg Campus Nursing Program.
Jennifer Weaver Scholarship Award Fund - Former vice president of HACC's Gettysburg Campus will be forever felt on the Gettysburg Campus, as she has left a legacy of service dedicated to transforming the lives of students through affordable, accessible and quality higher education. Her commitment to student success, particularly for those in financial distress, compelled her to establish The Jennifer Weaver Scholarship Award Fund in 2011. Funds raised will benefit HACC's Gettysburg Campus students, particularly first generation college and/or Hispanic students in financial need.
Opportunity and Access Scholarship Fund - Financial barriers are often the most significant obstacles to a student's dream of a higher education. Your support will give deserving students an opportunity to become contributing members of our community.
Hanover Opportunity and Access Scholarship Fund - This fund will provide financial assistance to enable students from the Hanover area to have access to quality and affordable higher education opportunities.

Crosswalk Project
The funds raised will be used to provide a crosswalk and lighting allowing safe passage from the Gettysburg Campus to the North Gettysburg Trail paralleling Old Harrisburg Road across from campus. This crosswalk is needed to promote the safety of campus students and Gettysburg Area School District students who utilize the trail to access the campus.
Fundraising Goal: $15,000


Outstanding Peer Tutor Award

The funds raised will be used to annually award the Kimberly A. Shipley Outstanding Tutor Award. Student peer tutor recipients of this award must demonstrate outstanding tutoring technique and have performed above and beyond expectation in the Learning Center or through volunteer efforts within the community or the college.
Fundraising Goal: $5,000

 
Early College Academy
One of the best ways to encourage student success is to give them the opportunity to excel. The Early College Academy gives selected students the opportunity to attend high school and college during the same academic year. The program challenges the students academically and enables them to acquire the tools they will need to succeed in college.
Early College Academy is a program designed for college-ready high school seniors. Selected students take two courses (six credits) during the fall and spring semesters at HACC. These students receive both college and high school credit plus gain important college readiness skills. Please consider helping students gain an academic jump-start to their first year of college.
Fundraising Goal: $20,000
Harrisburg Campus: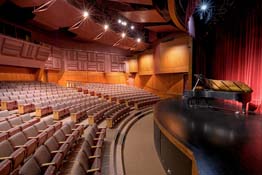 The Arts at HACC
The Live at Rose Lehrman Artist Series
presents live professional performing events to educate, entertain and improve the quality of life for Central Pennsylvania audiences. We believe that community members and students who experience high-quality, professional events are enriched and informed so that they may become more successful and engaged citizens.
Our programming, which occurs in the Rose Lehrman Arts Center, is both an extension of the traditional classroom and a community outreach tool. We have several needs to continue to support our Arts programming. One need is for upgraded equipment and facilities. Specific needs this year include renovating the dressing rooms for student performers in the HACC Theatre Works productions and also for performers for the Live at Rose series.
Renovate the Men's and Women's Dressing Rooms and Affiliated Restrooms - our goal is $45,000 for each room.
Update the Green Room - open space, kitchen and private dressing room - our goal is $60,000.
Underwrite 50% of the overhead costs for the Live At Rose Lehrman Series. Our goal is $100,000 annually.

Cooper Student Center Renovations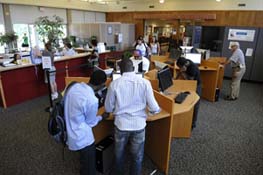 For the first time in 45 years, we are completely renovating the Cooper Student Center. It was built in1968 with an anticipated capacity for 7,500 credit students. We have exceeded those enrollment numbers with 9820 credit students on campus in Fall 2012, and over 30,000 non-credit students, primarily on the Harrisburg campus. Although Cooper has withstood the Agnes flood of 1972 and has gone through several modifications, it is time for a complete renovation to attract and retain students into the 21st century.
Our goal is to create a "one-stop" Welcome Center, where students have easy access to a range of student services from admissions and registration to financial aid and advising. Key findings from the Community College Survey of Student Engagement completed in 2007 verify the connection between student engagement and student success. In particular, support for learners (advising and counseling services) was consistently "correlated with measures of persistence." By providing improved support for students in the new Cooper Center, we will advance student persistence and success at the college.
Plans are to move the Welcome Center from the second floor to the first floor, near the entrance, as a natural starting point for new and prospective students. Entrances from both the parking lot and the quad would clearly lead into the new Welcome Center, with Registration, Financial Aid, Counseling and Advising services, along with a bank of self-service kiosks, would be easily accessible. The new student space would include a completely revamped cafeteria, with space for four vendors, comfortable seating throughout, a campus store for books, electronics and more. The second floor would house social space for student clubs and activities, including a student lounge and game area. The redesigned space will have lots of natural light and warm colors to create a warm welcoming environment for students to engage in activities or just hang out.
Fundraising Goal: $15,000,000


Scholarships for students who are not eligible for Pell Grants
These scholarships provide education assistance for students whose families fall just outside Pell grant criteria but who are struggling to pay for college. These scholarships fill their funding gaps. 
Fundraising Goal: $50,000
Lancaster Campus: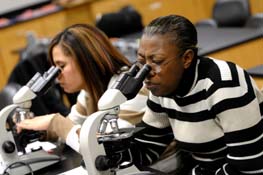 Scholarship Campaign
In celebration of over 20 years of HACC's presence in Lancaster, the campus is raising scholarship funds to enable students from the Lancaster region to
access quality and affordable higher education to proactively support our region's evolving labor pool and workforce development needs.
Scholarships will increase access to higher education, enhance recruitment and retention of students, particularly those who are economically disadvantaged, provide resources to lead to completion of a degree, certificate, or career skills program and offer assistance to students who do not qualify for federal and state funding sources. Funding will support student needs for tuition, fees, books, equipment, childcare and transportation. Efforts will focus on three opportunities:
Lancaster Champions - Provides funding to students graduating from the Lancaster region's high schools.
Adult Career Pathways - Provides funding to support students launching a new career or enhancing their current path.
Campus Scholars - Provides support to students enrolled in a transfer-oriented program to further their education.
Scholarship assistance can make the difference in whether a student remains in class, on a career path and ultimately emerges to find employment within Lancaster County. Conversely, if scholarship assistance is not available, the same student may sit out a semester or abandon academic and career goals altogether, perhaps finding minimum wage employment and earning far less than a family-supporting wage.
Lancaster County leaders have identified access to quality education for all county residents as their top priority. In its "Lancaster 2020, Shaping Our Future" Summary Report (January 2009) Executive Summary, participants discussed 31 specific opportunities for change and voted for the opportunities they believed were the most promising "to guide the community's effort toward change." Education was deemed the top priority because it impacts "both the individual and the community as a whole by improving employability, citizenship skills and lifestyles."
HACC's Lancaster Campus believes in the talent within its student population and further believes in preparing students to become exemplary workers in business and industry throughout Lancaster County. Without scholarship assistance, talented students may never join the ranks of those in high-demand career fields. For the long-term economic growth and vitality of the entire region, scholarships are more critically needed than ever before.
Please consider supporting our Lancaster Campus students to achieve their educational goals.
Fundraising Goal: $600,000
Lebanon Campus:
Scholarship Campaign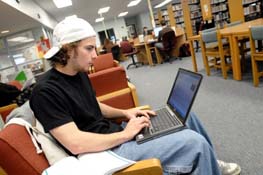 The Lebanon campus needs your assistance to provide scholarship dollars to those students who fall into the following categories:
 

Students who do not qualify for Pell Grants

-

These students come from middle-class families who make too much money to qualify, but not enough to pay for college.

Students who do not qualify for loans

-

Many Lebanon campus students are working and balancing family needs while going to college. Students whose schedules allow for only one class (three credits) at a time do not qualify for student loans, adding financial stress to an already difficult situation.

Students who have used most or all of their financial aid on remedial courses

-

These students often deplete scholarship and loan monies before they can complete their certificate, diploma or degree program.
Please consider supporting these Lebanon Campus students who, without your generosity, may not be able to afford to continue their education.   In the 2012-2013 academic year, more than 1,200 students were enrolled at the HACC Lebanon Campus. Only 196 students, 16.2 percent, received scholarship aid to help offset the cost of their education.
Fundraising Goal: $50,000

Technology, Equipment and Facilities

A critical component of providing high-quality education is ensuring that our students are using the latest technology, equipment and facilities.
Replacement/upgrade of LCD projectors and audio equipment - Eight classrooms at the Lebanon Campus have audio and projection equipment that is outdated or failing. Upgrading this classroom technology ensures that our instructors are using the best delivery methods and providing the most effective education for our students. The approximate cost per classroom is $5,625. Our goal is $45,000.
Replacement of models, slides and equipment for biology lab - Biology instructor Dr. Heidi Devlin combines theory of instruction with her real-world experience as a researcher at Hershey Medical Center. However, the equipment she is using hinders the delivery of this information. The models, slides and equipment are out of date and in disrepair. Replacing these items will enhance instruction in a course that is part of the highly sought-after STEM (Science, Technology, Engineering and Math) disciplines. Our goal is $10,000.
Expansion of security camera on second and third floors of Dixon Hall - One of the most important features of taking classes at HACC's Lebanon Campus is the security provided at Dixon Hall. HACC's Office of Safety and Security would like to enhance the security provided to our students by placing additional cameras on the second and third floors to eliminate any blind spots or areas not covered by our existing camera system. This will improve the educational environment for students, faculty and staff. Our goal is $4,000. Update the scholarship goal to $50,000
York Campus: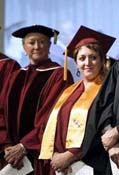 Scholarship Campaign
The HACC York Campus needs your support to provide scholarship dollars to students who will help break the cycle of poverty and despair. These students will fill critical workforce needs in the York region.
Workforce Development Fund - HACC's ability to launch new programs and respond promptly to evolving needs often depends on access to immediate funding. This fund allows us to invest in new initiatives, develop curriculum, provide professional development and conduct community outreach. It makes possible our ability to supply York County with skilled workers. Workforce development funds allow the campus to make critical purchases of industry standard tools, machinery, equipment and technology for credit and noncredit education programs.
Opportunity & Access Scholarship - Financial barriers are often the most significant obstacles to a student's dream of a higher education. Your support will give deserving students an opportunity to become contributing members of our community.
York City Fund - Students who reside in the city of York must overcome significant hurdles to pursue a degree, diploma or certificate, including poverty, crime and unemployment. Increasing the educational attainment level of city residents is a proven way of reducing the incidence of these societal problems.
Allied Health Fund - HACC is a primary provider of healthcare workers in Central Pennsylvania. Scholarships in this area will help meet the demand of a field that is growing in our region, across the commonwealth and nationwide.
Please consider supporting these York Campus students. An investment in them is an investment in the betterment of our community.
Fundraising Goal: $250,000
 *************************

Contributing to the HACC Foundation