With the support of the Foundation's roots, long, supple and strong branches grow. The branches of HACC are the achievements of the Foundation.
Distinguished Alumni are Celebrated
At HACC's Distinguished Alumni Awards Dinner, the College celebrated five outstanding HACC alumni who made a difference. Their success is measured by the impact they have made – and continue to make – in our community and in their personal lives.
At HACC's fifth awards dinner on Saturday, June 1, 2013, the following five alumni were welcomed to the Alumni Association's prestigious Circle of Distinction.
·Daniel M. Ashby (liberal arts, 1968), senior director of pharmacy, The Johns Hopkins Hospital
·Patty A. Bowen (business studies, 1998), coordinator, professional development, HACC
·Timothy M. Gregg (fire science, 1995), fire chief, City of Lancaster
·Daniel C. Miller (business, 1975), founding partner, Miller Dixon Drake PC and controller, City of Harrisburg
·Daniel T. Thau (engineering, 2006), president and chief executive officer, Millennium Circuits Limited
These outstanding alumni, through their commitment and hard work, embody the HACC "spirit" and serve as an inspiration to HACC alumni and students.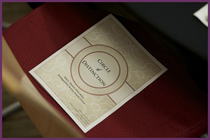 Partnership Impacts Student Learning
In May 2013, Wellspan Health reacted to a need of the HACC York Campus nursing students and awarded a gift of $15,000 to create an eLearning lab. With this gift, a DocuCare System and a Simulated Electronic Medical Records (Sim EMR) machine were purchased which, when used together, simulate the electronic medical record system being used at clinical sites. Using these new systems will enable HACC students to be more confident and efficient with electronic charting when they enter the clinical unit.
The partnership between HACC and Wellspan Health greatly impacts student learning and allows HACC to respond to changes in the health care industry, ensuring its students are fully prepared to enter the workforce.
(
return to top
)

An Evening to Celebrate the Friends of HACC
On Sept. 6, 2012, HACC's partners and donors were treated to a reception and evening of celebration, gratitude and entertainment with members of HACC's Board of Trustees and HACC Foundation Board, as well as HACC administrators and staff.
After being welcomed by James E. Grandon Jr., Chairman of the HACC Foundation Board, remarks were shared by HACC President John J."Ski" Sygielski Ed.D,  HACC student Ricardo Almodovar, HACC alumna Yvonne Echols Hollins and Robert E. Hall, a HACC Foundation donor. Guests also enjoyed performances by OpenStage of Harrisburg, the Central Pennsylvania Youth Ballet and the Harrisburg Symphony Orchestra.
Attendees left the event with an understanding of how their partnership made a difference to HACC and to all those touched by their generosity.


Memoriam Gift Ensures Advancement of Harrisburg Nursing Program
In memory of her late husband, Mrs. Kelly Lick generously made a contribution to the HACC Foundation in support of the Harrisburg Campus nursing program. The donation will ensure that the program remains up-to-date and continues to provide real-life instruction for its students. The gift from Mrs. Lick helped to secure the addition of one 12-month and one nine-month teaching position.These two instructors teach one-third of all nursing classes, primarily educating licensed practical nurses (LPNs) and registered nurses (RNs).
In addition, Mrs. Lick's gift established a simulated hospital room with two simulation mannequins, providing students with a realistic clinical learning environment. These new mannequins are so lifelike they mimic adult and baby functions, such as blinking, reactive pupils, pulses, lung, heart, bowel sounds, breathing, and the ability to be intubated and defibrillated. They can also be programmed to convey functions such as respiratory rate, heart rate, blood pressure and limited speech.

(
return to top
)

Engineering Scholarships Benefit From $400,000 Grant
The Donald B. and Dorothy L. Stabler Foundation was established in 1966 to support organizations and institutions which are located in or provide their primary services in Central or Eastern Pennsylvania. Recognizing the value of the education that HACC provides and its importance to the community, the Stabler Foundation awarded HACC a $400,000 grant to augment the Stabler Foundation's Engineering Scholarship Fund. This permanently endowed fund provides scholarships to outstanding first-year HACC students in engineering technology programs.



Frank J. Dixon Tournament for Scholarships at HACC
An annual event since 1996, the Frank J. Dixon Tournament for Scholarships at HACC has raised close to  $1.6 million in new scholarship dollars for students demonstrating financial need at HACC campuses in Gettysburg, Harrisburg, Lancaster, Lebanon and York, as well as in HACC's virtual learning classes.
The 2012 tournament, which was held at the Hershey Country Club, raised a total of $128,415 through sponsorships and other contributions. The HACC Foundation awarded a total of $84,400 in scholarships for the 2013-14 academic year from golf tournament net proceeds.Over the past two years, 440  students have received these awards.
The Frank J. Dixon Tournament for Scholarships is the largest fundraising event for the HACC Foundation in terms of scope and funds raised.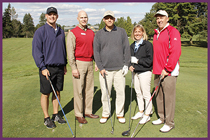 Dr. Ski with partners at Conrad Siegel Actuaries. Pictured are, from left to right, Robert M. Glus, Dr. Ski, David H. Killick, Tara Mashack-Behney and Kevin A. Erb.

Hershey Entertainment Sets up Scholarship Award Fund in Remembrance of Longtime Employee and HACC Alumnus
Hershey Entertainment set up the Frank J. O'Connell Memorial Award in memory of Frank J. O'Connell, a HACC alumnus and longtime general manager of Hersheypark and the Hershey Entertainment Complex, using the proceeds from its Hershey 10-K Race to do so.
O'Connell, who passed away in October 2011, spent 33 years with Hershey Entertainment & Resorts, climbing the ranks from the food and beverage department to the general manager position. O'Connell was in charge of the entire entertainment group's operations, where he built roller coasters, oversaw operations at ZooAmerica North American Wildlife Park and managed two hockey arenas, a football stadium and an outdoor amphitheater.
To receive the Frank J. O'Connell Memorial Award, an HACC student must have a minimum GPA of 2.5 and financial need. In addition, the student must submit a 250-word essay explaining how the scholarship will impact his or her educational goals. Preference is given to former or current employees of Hershey Entertainment & Resorts.

Partnership Emerging With the Rolls Royce Foundation to Benefit Auto Tech Students
In 2010, the Rolls Royce Foundation established a scholarship fund to assist HACC automotive technology students. The Rolls Royce Foundation also provides the opportunity for HACC students to participate in Saturday "workdays" at its facility in Mechanicsburg, Pa.
In the spring of 2013, the first Rolls Royce Foundation scholarship was awarded to Edin Ibric.  Edin Ibric and other HACC students have attended the Rolls Royce Saturday workdays where, they, along with assistant professor Jeff Gieniec, work on projects such as unloading and categorizing a tractor trailer full of donations, putting their knowledge to use by fixing one of the donated cars and exercising the Rolls Royce vehicles at the facility.
Automotive technology faculty members and students are looking forward to this year's Pennsylvania Auto Show, where they will display the Rolls Royce they worked on and distribute information about HACC and the Rolls Royce Foundation. "This has been anawesome partnership," Gieniec says.

Edin Ibric, HACC student and Rolls Royce Foundation scholarship recipient

(
return to top
)
Frank Dixon Named as Director Emeritus of HACC Foundation
Francis "Frank" J. Dixon has been a strong supporter of HACC and the HACC Foundation. To thank him for his continuous and gracious support following his recent retirement from the HACC Foundation Board after 23 years of service, the HACC Foundation Board of Directors named Mr. Dixon as director emeritus.
HACC's Lebanon Campus owes its presence in Lebanon to Mr. Dixon as a result of Dixon Tuition Assistance Grants that The Francis J. Dixon Foundation started giving in 1990 when the campus re-opened after a fire destroyed the original building.
During his 23 years as a member of the HACC Foundation Board of Directors, Dixon served as its chairman from 1994 to 1999 and was as an active member of the Executive Committee, the Investment Committee, the Nominating Committee, the Special Events Tournament Committee and the Stewardship Committee. He also served as director of the annual HACC Foundation Golf Classic, now the Frank J. Dixon Tournament for Scholarships at HACC.
Throughout the years, Frank Dixon and the Dixon Foundation have provided $1,000 tuition assistance grants for Lebanon County residents; encouraged other individuals and organizations to contribute to the HACC Foundation; spoke on behalf of the College to community associations; contributed books to the College's library collection; and regularly gifted HACC with major gifts and endowments to support various projects.
Dixon was the owner of Brandywine Recyclers before retiring in 2008. On Dec. 30, 2012, he was named Citizen of the Year by the Lebanon Daily News, the county's daily newspaper. Dixon was awarded an honorary doctorate of public service from HACC in 2002.
As HACC President John J. "Ski" Sygielski, Ed.D. says, "We are eternally grateful to Mr. Dixon."

Francis J. "Frank" Dixon, Director Emeritus, HACC Foundation Board of Directors


New Online Application Process for HACC Scholarships
The HACC Foundation introduced a new online process for HACC students to apply for HACC Foundation scholarships. This new process, which replaced the old manual process, allows students to simply go online to complete a scholarship application. The new system then matches students' information with the criteria of the scholarships for which they qualify.
In fiscal year 2012-13, the HACC Foundation raised nearly $2.2 million to support scholarships, providing financial assistance to 1,345 students. The funds raised also supported special programs and facilities.

(
return to top
)
The Francis J. Dixon Foundation Starts Students on Life-Long Health Care Career
Seeing that the demand for nurse aides is increasing and that the field is expected to be among the largest growth sectors in health care for the next few decades, the HACC Lebanon Campus began offering a nurse aide training program. The Francis J. Dixon Foundation funded minor renovations to the John J. Ford Allied Health Lab, which is the lab used for the program, and is also funding the tuition costs of seven qualified students who successfully complete the program.
Since the program was launched in May 2013, the approximately four-week course has been successfully completed by 23 students. Thanks to the Francis J. Dixon Foundation, Lebanon County residents interested in health care can get started on a lifelong career.


Funds Established by the Nadar Family in Appreciation of HACC Professors
Suganthi Nadar, originally of Madurai in Tamil Nadu, India and now a resident of Mechanicsburg, was a HACC student before becoming a HACC Foundation donor. Inspired by the work displayed in the Rose Lehrman art gallery and to "help support the amazing work happening at HACC," Mrs. Suganthi Nadar and Dr. Venkatesh  Nadar, her husband, opened the Nadar Family Fund and the Nadar Web Development and Design Program Fund. "We found the professors at HACC to be excellent and we wanted to show our appreciation for them!"
The couple also wanted to become HACC Foundation donors because of Professor Carl Petersheim, Mrs. Margaret Brandt and Professor Kim Banister, as Suganthi felt that they "showed me to trust myself and guided me to improve my talents.  They transformed me from a housewife to a Web professional!" The Nadars wanted to establish a fund that would benefit students like Mrs. Nadar, showing appreciation for HACC professors in the process.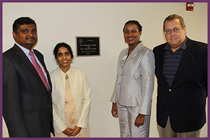 Dr. and Mrs. Nadar, Dr. Linnie S. Carter and Professor Carl Petersheim in front of a plaque honoring the Nadars for their contributions to HACC