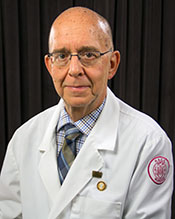 Ronald E. Rebuck, MSN, RN
HACC Foundation Board Member
1. How long have you been a part of the HACC Foundation Board?
Appointed in May 2017.
2. Which HACC campus location do you represent?
All HACC employees
3. How long have you lived in the area?
All my life
4. Why did you decide to become a member of the HACC Foundation Board?
This is a great opportunity to assist in the continued growth of the College and to help and support the students we serve.
5. What is your professional background, including current employer and position?
Registered Nurse. For the past 32 years, I have worked for the College in the Nursing Department.
6. What do you enjoy the most about being a member of the HACC Foundation Board? 
It is great to know I am now a member, and I await the opportunity to serve.
7. What are your hobbies and interests?
Avid coin collector, veracious reader. Enjoy history and traveling to historic sites with my wife. Active in my church, Saint Joseph in Mechanicsburg. Strong supporter and advocate for mental health and the mentally ill. Active in professional nursing organizations.