The HACC Alumni Association is governed by the Alumni Council, which helps to shape and influence the policies and direction of the Alumni Association. The Alumni Council meets six times per year. Council members also serve on committees and task forces.
Mission: Engage alumni, students and the community in supporting the College.
Vision: Develop dynamic alumni who are committed to our students and each other, dedicated to the College and the communities it serves.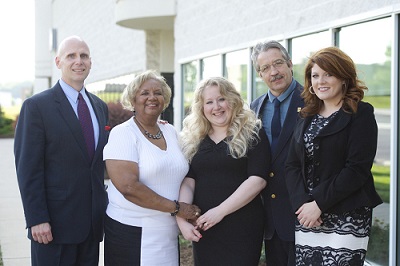 Members of HACC's Alumni Council pose with Dr. Ski. From left: Zenoria McMorris-Owens, Carissa Mellinger, Patrick Donnelly and Candice Neff.


Bylaws (pdf)
Alumni Council Members
| | | |
| --- | --- | --- |
| Name | Elected Office / Campus | Graduation Year |
| Gary Allen Aller | Harrisburg | 2008 |
| Linda Lubold | Harrisburg | 1998 |
| Rachel Bottomstone | Lancaster | 2004 |
| John R. Campbell | Harrisburg | 2011 |
| Patrick E. Donnelly |  Vice president / Lancaster | 2001 & 2002 |
| Katie Lippy | Gettysburg | 2013 |
| Joseph E. Alsberry | Treasurer / Harrisburg | 1969 |
| Zenoria McMorris-Owens | President / Harrisburg | 1978 |
| Carissa B. Mellinger | Secretary / Lebanon | 2009 |
| Candice M. Neff | Harrisburg | 2006 |
| Troy Richardson | Lancaster | 2007 & 2009 |
| Geni C. Robinson, RN | Lebanon | 2011 |
| Melvin J. Wilson, Jr. | Harrisburg | 2002 & 2003 |