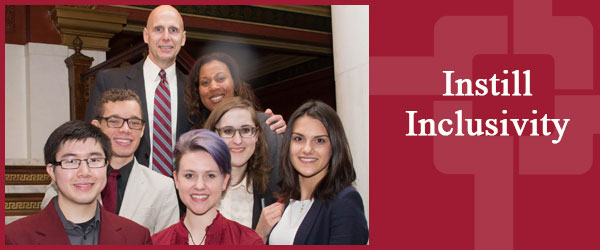 Engage the College community in an exchange of ideas and practices that promote respect, collegiality, diversity and empathy. Nurture awareness and cultural sensitivity to create a climate of trust within the College.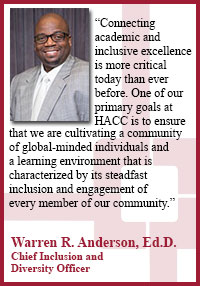 Subgoal 1: Champion diversity and inclusivity.
Objective 1 - Develop two new and support existing events and initiatives on campuses to raise awareness of the value and benefits of diversity and inclusion.
Timeline: June 2016
Objective 2 - Assess competencies achieved on: Round circle discussion titled, "Let's talk: A Conversation about Race" And Professional Development on institutional cultural competence and group dynamics to identify diversity and inclusion competencies aligned with institutional needs.
Timeline: June 2016
Objective 3 - Evaluate accessibility for students across campuses and within Virtual Learning.
Timeline: December 2016
Subgoal 2: Create and maintain a collaborative culture across the College.
Objective 1 - Institute recommendations developed by the Employee Engagement Task Force from climate review and implement specific recommendations.
Timeline: June 2019
Objective 2 - Increase number of high-quality, relevant supervisory and leadership training and increase number of participants and return on investment.
Timeline: December 2016
  Subgoal 3: Enhance recruitment and retention of employees and students to create a more diverse and qualified workforce.
Objective 1 - Create marketing, recruitment and student success plans to increase student enrollment among people of color by two percent.
Timeline: December 2019
Objective 2 - Reduce time to fill vacancies and change employee demographics by offering training and tools for hiring managers and search committees to promote best-practice hiring techniques and the elimination of unconscious biases.
Timeline: December 2016